Even-Cake Slicing Leveler
Layering cakes can be a difficult and time-consuming process, one simple mistake can put your cake layers into pieces, this 5 Layer Leveler is designed to easily help you achieve an even layered cake in seconds.
How-To Use
Choose the layer depth you want
Press down on the button
Put in your Serrated knife and release the button
Cut as you normally would
The best part now is, you don't have to worry about uneven layers 

The units can be easily cleaned in warm soapy water/rinse in cold water and air dry.
The package includes 2 cake Levelers.
Please allow 9-16 business days with FREE standard shipping in addition to order processing time. You can at any time check the status of your order Here.
Connect with us at info@ArtbyCake.com-replies within an hour or Call our team on 929 224 0680.
Customer Reviews
It worked just fine
I have used it once...and it worked just fine slicing the cakes
A great gadget to have
I bake pretty often and cakes are the number one thing on the list. With this being said I still have trouble slicing a cake with nice and even layers to make all those fancy cakes. There are so many gadgets out there to use to help in this process. When I came across this product I was super excited!! Finally something I could use that didn't take up a lot of room in my kitchen!! Space is another topic for another day. This cake slicer came in a super cute small plastic case that makes storage even easier so both pieces can stay together and wont get lost. My knife fit easily into the two pieces and did not wiggle during use. (I was worried about this) I was able to slice my cake without any issues in nice even layers. This allows for a sturdy cake when frosting, decorating and stacking. This cake slicker allows you to cut 5 even layers easily. The two pieces were easy to clean up after use with a damp cloth.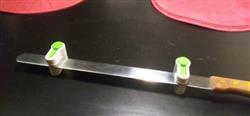 Nice slice
Why didn't I buy one of these years ago? I bake a decent amount. Cakes are a big request. Yes, a serrated knife works just fine, but i didn't always get an even slice across the top that way. This just makes it so easy...and even!
Works beautifully!
Works beautifully!! I let my cake cool—stiffen, really—completely in the pan before removing, otherwise it's too warm and moist to hold up to being cut and it'll just crumble and lose the whole thing. I baked a 4-5" inch deep cake and used this to make 4 layers, and the leveler was perfect in achieving it, I was so freakin happy with the end result!!! My first real cake tbh. Also real easy to clean with a wet paper towel.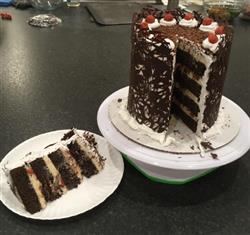 04/05/2018
Corina V. Warren
Great for those who need help leveling
I was skeptical at first, but it really worked. I always have issues with uneven cake tops and am so excited that it's no longer an issue. It's real easy to use and will last a long time